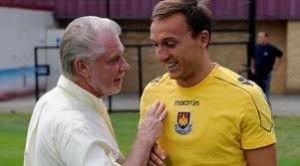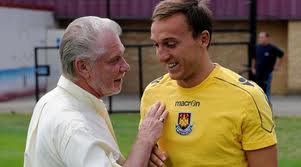 CandH Exclusive by Hughie Southon
David Gold was totally thrilled that Mark Noble got the best send off on his final day and now wants to complete a great last season by beating Brighton and hoping Man United get no more than a point at best in their last day clash with Palace.
He said: "That would see us back into the Europa League and I have no fears about our final game – another performance such as we saw yesterday would be perfect."
He could barely find the words to describe his feelings after the contribution Nobes has made to the club over a lifetime.
But he said: "He's a unique footballer, a unique man and that was shown by the amazing reception he was given by our fantastic fans. Even for me it is wonderful to be able to say "I was there.
And on top of everything else we saw him retiring on the back of a last home game result nobody could have expected.
I can't make a comparison between yesterday and other days in my West Ham life because I had incredible nights at the Boleyn and the final home game against Manchester United will live forever in my  mind.
But we are having some amazing times at the stadium and yesterday was probably the best so far 0 certainly the most emotional. We will forever be so grateful to Mark.
Now for Brighton"